Guitar repair that will get you shredding again!
Dedicated to the setup, repair, maintenance and modification of guitar and bass, Reanimator will have your guitair feeling and sounding like it did on the day you bought it! Stop settling for a sub par sound and bring your tone back from the dead with Reanimator!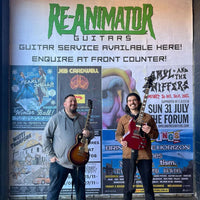 Drop your guitar off at Three Phase Rehearsal Studios for a service!
Present your riff stick to the front office where you'll find a QR code that you can scan and fill out an online form, or, for those who aren't particularly tech savvy, a physical form to fill out with a pen!
Learn more here
Pick up all your guitar gear at reanimator!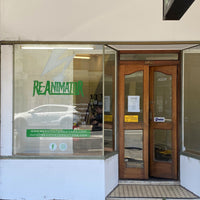 Visit our Shop!
Come and visit our shop in Murrumbeena and talk with out expert team about your guitar, and book in your next service.
Shop Hours
Get some tips on repairs and see our work!
Hear what our customers are saying
I purchased a second guitar from eBay that was 20 years old. Chris did a full setup and polish that made it look and feel brand new. I highly recommend Reanimator!

Reece Hickey (Ganbaru, Cold Ground)
Chris did a great job repairing and setting up my Fender Jazz bass. It hasn't felt this good to play since I walked out of the shop with it 15 years ago! 

Scott Cooper (The Omen, Caged Grave)